Update as of October 5, 2020: Due to the unstable travel environment we continue to face due to COVID-19, it has become necessary to cancel our January 2021 Pastors FAM Tour to Israel. There are two reasons for this decision…it is still not known when Israel will begin accepting travelers/tourists from the U.S. and ELAL Israel Airlines, which we use for our FAM tours, is not issuing FAM rates at this time. January is the primary season for Pastors FAM Tours and we are very hopeful that we will be offering one soon for January 2022. For up to date information please check back on this site or call us toll-free at 800-780-7801.
INFORMATION BELOW WILL APPLY TO OUR 2022 FAM TOUR.
Pastors…Travel to Israel for less than half the price of comparable tours while enjoying a full 10-day itinerary, round trip airfare on ELAL Israel Airlines, excellent hotels, over 40 biblical & historical sites, and the finest guides in Israel. And all along the way, you'll be treated as VIP guests of Ed Hill Tours and Israel.

January 2022 – Nonstop Boston (and other departure cities) to Tel Aviv on ELAL.   

Pastors tour cost – $1599 (Estimated cost)  Links below in Blue

Our Israel FAM (Familiarization) Tours are designed to offer pastors an opportunity to tour the Holy Land at significantly reduced prices. For our 2022 Pastors/Clergy Tour, we've planned an inspiring 10-day journey (not the 5 or 6-day "overview tour" some tour companies offer) to acquaint pastors with the land where Jesus lived, taught, performed miracles, died, and rose from the dead. This tour gives pastors the opportunity to learn various options for leading a tour of their own, and allows them to get to know us at Ed Hill Tours. EHT owners, Richard Page and Meredith Hill Page will accompany the tour from start to finish.
What Is A Pastors "FAM" Tour? If you are a pastor who has never been to Israel, or if you haven't gone recently, we invite you to come with us to experience this amazing land for yourself. On this full 1-day tour, you will visit some 40 major biblical and historical sites in Israel. Stand atop Mount Carmel, visit the Mount of Beatitudes, sail on the Sea of Galilee, and tour Masada via cable car. You will enter the empty Tomb, walk the streets of Old Jerusalem, pray in the Garden of Gethsemane, visit the Shepherd's Fields in Bethlehem, and much more. Check out the comprehensive itinerary: FAM Tour 10-day Itinerary
What makes our FAM tour different? Pastors are NOT asked to sign any contract or agreement, and are in no way obligated to future travel. We believe pastors are so inspired by their visit to the Land of the Bible, that they want to return with their own group without any pressure of any kind. There are no nightly meetings. Pastors returning with at least 15 paying passengers within 18 months (most tour companies allow only 12), will receive a $1000 refund of their FAM tour cost. And pastors always receive free travel typically based on one free tour for every five paying passengers. 
Included: Round-trip airfare nonstop from Boston, Deluxe and Superior First-Class hotels, full Israeli buffet breakfast and dinner daily, all entrance fees per itinerary, deluxe coach, group transfers in Israel, St. Peter's lunch, baggage handling on tour, and a top Israeli guide. EHT FAM Qualifications & Benefits
Not included: Transportation to Boston or other departure airport, travel insurance, lunches or additional meals and beverages other than those included, laundry, telephone or any extra hotel expenses. Gratuities of $125 p/p for our guide, driver, and hotel staffs will be included on the invoice and pre-collected with final payment due. No other tipping is necessary.
To reserve your space, click on the FAM Tour Registration Form 2022 and make a copy for each person traveling. Fill out completely and return to us by email, fax to 561-624-3201, or regular mail. For more information, contact EHT toll-free at 800-780-7801 or by email: tours@edhilltours.com.

Recent Pastors FAM Tour Report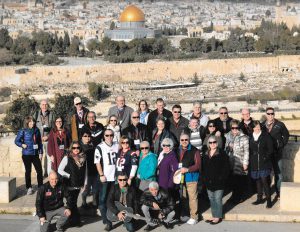 Ed Hill Tours offers our special Pastors Tour of Israel every January, and the last tour was our largest Pastors Tour ever! This tour was made up of two groups with over 50 pastors and spouses. The Red Bus was comprised of presbyters of the Southern New England District of the Assemblies of God, led by District Superintendent Bob Wise and one of Israel's top guides, Shlomo Eyal. The Blue Bus was made up of pastors from all over the nation from several denominations. Gershon Priewer, another outstanding guide led this group, and Meredith Hill Page and Richard Page escorted the entire tour. Several pastors have already scheduled to return with groups from their congregations.
"First rate experience. All the accommodations were great, and everything was very well planned. Our Israeli guide and driver obviously had a lot of clout with everyone we met, which says a lot. Richard and Meredith went out of their way to make sure everything was the best it could be. I'll be sharing my experience with a number of pastors in Louisiana and I'll have no problem recommending the Pastors FAM trip. My wife and I plan on returning to Israel next year with Ed Hill Tours." Pastor Ken Sifford

"Just came back from a Pastor's Familiarization Tour of Israel. What a wonderful company to tour Israel with. Organized, friendly, not a care in the world. Was able to go to Israel and do what I was there to do without worrying about any details. First class people and company with a great heart for God and for pastors."  Pastor Gary Underwood