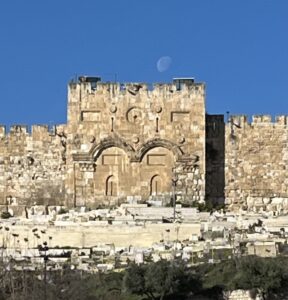 When Israel began welcoming tour groups again in November 2021, we accompanied our first two groups since February 2020. We also accompanied our Pastors/Leaders FAM (Familiarization) Tour in January and Pastor Alberto Delgado's group in March. We have had 9 groups in Israel since November and  are grateful and excited to be back!

As always, there is no way to describe Holy Land tours other than amazing! Just being back in Israel is amazing! All sites are being visited, and nearly everything about Israel and touring is normal. Everyone at the hotels, sites, restaurants, and shops are excited to see groups return. It is great to see our guides, Israeli staff and friends, and even hotel and restaurant personnel we have known for years.
On March 1, 2022, Israel began welcoming all foreign visitors regardless of their vaccination status. This means both those who are vaccinated or are NOT vaccinated may enter. Now…Even More Great News!…No Testing Before Travel to Israel! As of May 20, 2022, Israel will no longer require testing before a flight to Israel. With greatly improving health conditions in Israel and worldwide, travelers arriving in Israel will no longer be required to present any kind of COVID testing done before boarding their flight.
A number of our recent passengers found it difficult to be tested and get results back within 72 hours of their flight. This issue no longer exists and with no testing required upon arrival in Israel, there is now no quarantine period until test results come back. We are thankful these concerns are now behind us, and that travel to Israel has basically returned to normal.
Israel Entry Requirements as of May 20, 2022

Proof of having a health insurance policy with coverage for the treatment of COVID is required. Having this insurance is a condition to enter Israel and proof of such is shown at the departure airline check-in.
At this time, visitors entering Israel are still required to fill out an ENTRY DECLARATION FORM.  This is to be done online during the 48-hour period before flight departure to Israel and is shown to airline personnel at the check-in counter, preferably on a cell phone/mobile device. CLICK HERE to go directly to the site with the form. Once on the site, to access the form, go to the bottom of the page and click on "Ok. Let's begin." The form can be a bit confusing, so if needed, CLICK HERE for a tutorial to assist in filling it out. Note: We recommend printing these step by step instructions to refer to as you fill out the form online. 
A PCR test will NO LONGER be administered at Ben Gurion Airport upon arrival in Israel. Hence there is no longer a quarantine period until results are received. 
For more information CLICK HERE to go to the Israel Tourism site. 
Masks are not required on the motor coach but may still be required at a few indoor locations. 
At this writing, an antigen test is still required by the U. S. government within 24 hours of the return flight. EHT schedules this test to be done at the hotel or another location and it typically takes only a few minutes for an entire group. We believe this requirement will also be done away with soon.
Since Israel began welcoming tourists again, EHT has operated 9 groups, offering our usual high level of touring, professional support, and care for our travel guests. There have been absolutely no problems with sites being open, someone having to be quarantined, or any issue regarding the COVID protocols which were in place…all nine groups enjoyed wonderful tours. Even as the pandemic ends, we want to assure our guests that the hotels we use subscribe to the highest levels of cleanliness and sanitation, and our transportation partners utilize the most up-to-date health and safety protocols available.
Greece Travel Update. Greece began welcoming tourists in May 2021. Tourism Minister Harry Theocharis announced the country's plan to welcome back travelers beginning on May 15, 2021. 
As of May 1, 2022, visitors to Greece are no longer required to present COVID vaccination certificates after the latest move to allow smooth entry into the country. From May 1, visitors won't be required to hold EU Digital COVID Certificates (or other COVID vaccination or recovery certificates) on arrival, and can enjoy full access to museums, archaeological sites, restaurants and other culture and entertainment venues for which certificates were previously required.
The move came after the recommendation of the scientific committee advising the Greek government and represents the latest measure to facilitate travel to Greece following the abolishment of Passenger Locator Forms.
If you are a resident of the U. S. you will not need to quarantine in Greece and from May 1, 2022, no COVID-related documents are required. International passengers may be given a rapid COVID-19 test upon arrival in Greece. The result is usually available within 20 minutes.
Greece and the Greek Isles is our second most popular destination. Check out our Steps of Paul Tours to Greece by
Clicking Here.
What is now apparent. The desire to visit Israel, Greece and other biblical and historical destinations has not lessened. We are available to answer questions regarding present bookings or answer your questions about organizing a future tour. However, we are not a 24/7 business like an airline. Our normal office hours are 10 am to 5 pm Eastern time Monday through Friday…hours may continue to vary at this time. You may email us at tours@edhilltours or call 800.780.7801 to leave a message. When not in our offices, we consistently check calls and emails and answer all messages promptly.
Ed Hill Tours has been making travel dreams come true for Christian travelers since 1962…to Israel, Jordan, Greece, Italy, and various locations in Europe. Ed Hill Tours remains dedicated to the care and safety of those who trust us to operate their travel events, and we will continue to do so with honesty, professionalism, and fairness. Don't stop dreaming of an amazing journey in the near future.
Debunking Israel Travel Myths and misconceptions / "Knowledge is Power" The following are statements or questions we have heard on many occasions through the years.

"Israel is a dangerous place to visit" Since it's inception as a nation in 1948, Israel has experienced times of unrest, terror attacks and wars. Yet Israel is actually one of the safest places on earth! Most crime as we know it in the US is not prevalent or non-existent in Israel. Israeli security, both in Israel and on ELAL Israel Airlines, is considered the best in the world. Through the years EHT has taken over 50,000 travelers to Israel without incident, and to our knowledge, no tourist visiting Israel has ever been killed. We do visit Palestinian towns such as Bethlehem and on occasion, Jericho. These towns have proven to be very safe, but our travel itineraries never go into an area of possible danger, including most West Bank towns or anywhere near Gaza.
"It is expensive to visit Israel." The costs of travel to almost any destination seem to become more expensive every year, and some destinations such as London, Paris and Tokyo are very expensive. However, compared to those and many other destinations, Israel is still considered a bargain. Prices charged by different tour companies can vary widely as we'll explain in more detail later in this blog.
"Large tour companies have better tours." That's similar to comparing the overall quality of a hotel based only on the size of the building. In comparing tour companies specializing in Christian group travel, EHT is a moderate-sized company. Our travel partner and land operator in Jerusalem is consistently recognized as Israel's largest incoming tour operator. Quality tours are based on many factors, and being a larger company is certainly no guarantee of the best travel experience, travel product, or personal service. For example, we know of larger travel companies that consistently use older buses, lower level guides and drivers, and lower quality hotels. Why? Because tour companies save a considerable amount of money operating that way. We use only hotels rated Superior 4-Star and 5-Star in excellent locations. We use only the latest motor coaches, and our guides are experts in the Christian tour, among the most requested in Israel, and have worked with us for many years.
"The hotel you stay in doesn't really matter since you only sleep there." Even if true, just sleeping in a 2 or 3-Star hotel is not a pleasant experience (think bedbugs), however groups do much more than just sleep at a hotel. With a typical touring schedule, groups are back at their hotel from around 5 pm until 8 am the next morning. That includes having dinner and breakfast, and the better the hotel, the better the food and service. For groups desiring the experience, we can place them in a kibbutz or even a Bedouin tent, but typically we only use nothing less than Superior 4-Star and 5-Star Deluxe hotels.
"Some tour companies include free lunches." The old quote "there is no free lunch" could not be truer than in this case. The cost of the "free lunch" some companies advertise is simply built into the overall tour price. When lunches are prepaid, every tour member pays the same amount no matter what they eat, if they bring their own lunch, or choose not to eat. Yet the tour company can say they offer free lunches and tour members don't realize they have already paid for these "free" lunches in their tour cost. In addition, the tour company uses the same restaurants regularly and typically receives a "kickback" for doing so. The same applies to the "free water" on the bus some companies advertise…an amount was already added into the tour cost. Tour hosts seldom ask us to include lunches, but we can do so if requested. We will simply add a fair amount to the cost of the tour as a separate item, but we will not advertise it as "free lunches." 

"All airlines are basically the same." Not exactly! Airline travel in general is certainly not "glamorous" or in many ways as simple as it once was. Most airlines put as many seats as possible on their planes to produce more revenue. Of course, overall comfort, food, and service is markedly better in Business Class for those willing to spend more. Many international flights also offer "Premium Class", which is priced between Business Class and Main Cabin. To offer lower pricing, some tour companies will use charter flights which means older planes, offer even less service, and often have long waits at connecting airports…not a good experience! Some tour companies use flights on an airline that connects in Europe. This is usually not a problem for an individual, but for a group, it can be a nightmare! Groups can find themselves at the connecting airport, with no escort, and left to find their way around a vast, crowded foreign airport on their own, and usually go through a long security line after having gone through one before leaving the U.S. Large European airports such as London, Paris, Frankfurt, and Istanbul can be confusing and intimidating to even experienced travelers. That's why we prefer nonstop flights to Israel on ELAL, American, or United from international gateways such as New York's JFK, Newark, Dallas/Fort Worth, Miami, Boston, Chicago, Los Angeles, and Toronto. Before COVID, ELAL had added service from San Francisco, and limited schedules from Las Vegas and Orlando. Many flights were necessarily cut back or eliminated and have still not been reinstated. 
"Some tour companies offer really good deals." There is an old adage, "If it sounds too good to be true…It Is!" Prospective tour hosts should be aware of deceptive advertising and "come on" pricing. Some tour companies offer tours on dozens of dates a year and often advertise just the "Land Only" price without including the airfare. Admittedly, it would be difficult to quote accurate airfares on that many tour dates. However, the deception lies in the fact that these companies do not plainly state that the quoted price is just the "Land Only" price, and if it is stated somewhere on their website, it is usually not easy to find. We also see advertising which excludes the "carrier-imposed fees" – formerly called the fuel surcharge. This fee is usually $600 or $700 for round trip flights to Greece or Israel. So prices stated by some tour companies in their LARGE PRINT are NOT the total prices you will actually pay. Although this type of advertising is classic bait and switch, and it is easy to be deceived if you do not find or carefully read the fine print.