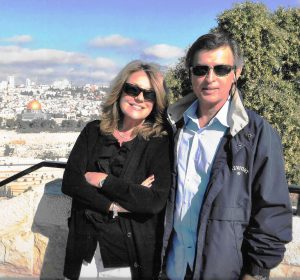 PASTORS SEEK SPECIALIST AGENTS vs. GENERALIST.

October 19, 2018
Several pastor/tour clients have recently told us how much our hands-on experience in Israel and other destinations has a significantly positive impact on their tours. We believe these comments point out the need for tour company specialization. One pastor stated, "I believe more pastors are understanding the need to work with a tour company that specializes in certain destinations and not just a general travel agent, or an agent with no personal experience in the destination they are selling." Through the years, we have known of several individuals with no professional travel experience who simply decided to market themselves as a tour company and solicit groups to travel with them.
So I believe pastors are looking for a destination or product-focused specialist, not just a local travel agent with no "on-the-ground" experience at specific destinations such as Israel, Greece, or other "Christian-interest" areas most pastors wish to visit.
One seasoned Christian tour leader noted, "Education and experience soon weeds out part-time adventurists trying to be travel professionals. I've found that expertise and service are the most important factors in choosing a travel management company." With 56 years of experience, Ed Hill Tours is recognized as the oldest continuously operating travel company that specializes in Christian group travel. Israel has been our #1 destination since 1962, and through the years, EHT owners and staff have personally accompanied hundreds of groups.
Safety is a major concern in today's world. Ed Hill Tours has always believed that not only must we be knowledgeable of sites, hotels, guides, etc. at various destinations, but of the safety issues at those destinations as well. With over 5 decades of experience in Christian group travel, we believe our first-hand knowledge of conditions and safety factors at the destinations we specialize in, is unparalleled. As Christian owners of a tour company that organizes Christian group travel, we believe in absolute honesty with our clients. That is why we do NOT recommend travel to some destinations. Yet although some who watch news reports may believe that Israel is a dangerous place, we wholeheartedly encourage travel to Israel. According to the Israel Ministry of Tourism, more than 3.6 million tourists visited Israel in 2017, and NOT ONE was killed or to our knowledge, harmed in any way. That statistic speaks for itself!

The influence of the Internet on today's travel. There are legitimate good deals on the Internet, and we often recommend that prospective clients – usually individuals – purchase their air or cruise tickets on the Internet. Yet, buyers should also beware of misleading and false information, bait and switch tactics, and pay close attention to the "fine print." Many so-called Travel Deals on the Internet are simply "click bait" – a "deal" that is no longer available, or possibly never was. These "come-on" prices lead to the complicated process of determining and adding the necessary options, extras, airline-imposed charges, or taxes; all of which will significantly increase the cost of a tour. One tour company advertises a Pastors FAM Tour for about $500 less than ours. (By the way, they use lower level hotels, have a shorter itinerary, etc). But upon checking out their fine print, you find that the price they advertise in large print price does not include the Carrier-Imposed Fees/aka Airline Fuel Surcharge of $700! Ed Hill Tours does not and will not engage in bait and switch advertising even if we may lose some business to companies that use unethical or dishonest advertising practices to lure customers. It's unfortunate, but potential tour clients simply MUST take the time to read the fine print. We feel that much is gained by retaining satisfied customers and by the positive referrals they give others…and it's simply the right and honest thing to do!
Our role at times has been to untangle all the information and misinformation, and narrow down a client's options. A recent article in a national travel magazine stated, "a good travel professional's role can be to sift through the maze of so-called deals online and truly find clients the best value and make sure they get what they pay for."
Nothing beats years of first-hand experience at the destinations we specialize in. In Christian group travel, no destination is more popular than Israel, no one has done it longer, and we do not believe anyone does it better than Ed Hill Tours.