You've seen photos of the ancient Parthenon on the Acropolis of Athens, which dates back to the 5th century BC. Pastors, the year 2021 will be a great time to see it in person along with members of your congregation. You've eaten at Greek restaurants—now enjoy authentic Greek food in Greece on land and on sea. Athens, Corinth, Thessaloniki, Kavala, Philippi, Veria, Meteora… all of this and the enchanting Greek Isles await you on a Footsteps of Paul – Greece & Greek Isles tour.
History and the Bible come alive on your guided visits to many of Greece's ancient sights. In Athens, visit the Acropolis, Mars Hill and the Plaka (Old Town). You'll also visit ancient Corinth, dating back to the 8th century BC, the place where Paul preached and spent considerable time – Acts 18:11.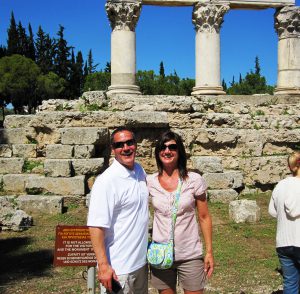 After arriving in Athens, a popular option is to take a short flight to Thessaloniki which was the center of Paul's activities in northern Greece, and where he preached and founded a church. Enjoy sightseeing in Thessaloniki, then travel to Philippi where Paul established a church and met Lydia who was the first Gentile convert to Christianity. Enjoy lunch by the beautiful harbor of Kavala (ancient Neapolis), where Paul first landed in Greece. In Veria, you will visit the Bema of the Apostle Paul where it said Paul stood and preached the gospel. A visit to Meteora may be added, which takes you to one of the most unique landscapes on earth. Visit one of 24 monasteries set atop granite monolithic pillars hundreds of feet high.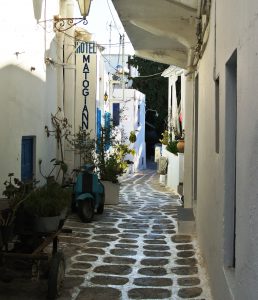 We return by coach to Athens to begin a 4-night cruise of the enchanting Greek Isles. Your first port-of-call is Mykonos with its famous windmills, narrow stone streets and quaint harbor. Then sail for Patmos, the "Holy Island", where you visit the Monastery of Saint John and the cave where he wrote the Book of Revelation. The next morning you dock in Kusadasi, Turkey where you will tour Ephesus, the most amazingly preserved of the Roman style cities, and where Paul preached and stayed for some time. An overnight cruise takes you to Rhodes where you have a free day to explore the Crusader fortress, the new city, or take a tour to Lindos, where Paul landed after being shipwrecked. Another overnight sail brings you to Crete, the largest of the Greek Islands. Explore on your own, have lunch at a sidewalk cafe, or visit the Palace of Knossos, one of the most famous archaeological sites in the world. Then you sail for amazing Santorini, thought by some to be the site of the mythical city of Atlantis. The main town, Thira, sits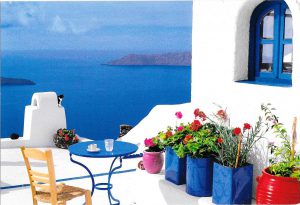 atop the caldera and can be reached only by cable car or donkey ride up a winding stepped road. Fantastic shopping, cafes, and amazing views await you on top.
Throughout, you'll be accompanied by an expert Tour Director who will bring this country to life by sharing the Bible, Greek history, stories, and insider secrets.
From the notable sites of the Apostle Paul's ministry, to ancient historic sights, to picturesque fishing villages, this tour of Greece and the Greek Isles cruise is the spiritual adventure and leisure vacation of a lifetime!
Several different itineraries are available and may be customized as desired. Ed Hill Tours does not offer "cookie-cutter" programs to any destination. No matter the size of your group, we will not arbitrarily place the group with other groups or individuals. We can customize the Greece tour according to the tour leader's desired dates of travel, specific itinerary requests, budget, level of accommodations, and other considerations.