Greetings!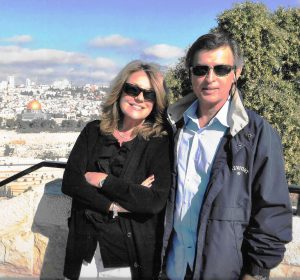 Thank you for taking a moment to allow me to acquaint you with Ed Hill Tours, the nation's oldest tour company specializing in Christian group travel.
My father, Rev. Edward B. Hill, was a true pioneer of modern-day Holy Land travel. He first traveled to Israel in 1961, and began organizing tours in 1962. Although we offer tours to many other locations, Israel has always been our number-one destination.
I believe we offer the highest level of experience and caring service to be found anywhere. This is reflected in the percentage of our business that comes from client retention and referrals. and many of those are among the largest churches in America.
Unequaled experience.  For over 58 years, Ed Hill Tours has been a respected name in Christian group travel, and we are the recipient of numerous awards from the Israel government. Our staff has a total of over 200 years experience including hundreds of trips to Israel, Jordan, Greece, Turkey, and various European destinations.
A higher-level travel experience.  We focus on providing well-crafted tours, excellent value, and personal service. We design each tour to fit the tour leader's desired travel dates, itinerary, budget, and other considerations. We specialize in deluxe hotels, use only top-level guides, and the latest Wi-Fi equipped coaches. Beyond those important tour components, it is our heart-felt desire that everything we do provides the platform for an enriching spiritual experience for each tour member. One of the great joys of my life is being with our groups in Israel and being part of their experience of seeing the Land and hearing God's Word where it all happened.
Integrity.  1) EHT does not demand a non-refundable deposit just to book a tour…some tour companies do. (This is not the standard airline deposit; it is done simply to "lock in" groups, and the tour company keeps the deposit if a tour is cancelled for any reason.) 2) During the tour, our groups are never solicited for extra tips or so-called "optional" touring. 3) We state specific hotels where our groups will stay. Some tour companies may state a certain hotel, then add "or similar." Then the group often ends up at the "similar" hotel, which is basically any hotel the tour company wishes to consider similar. This practice is simply a form of "bait & switch," and will save the tour company a considerable amount by using a hotel with unsold rooms where they found a last-minute deal. 4) We consider trust to be one of the core foundations of our business, including the protection of information regarding tour leader financials. Our "No Surprises – No Let Downs" policy is a primary reason we have built such a loyal client base through the years.
Professional service and buying power.  Longstanding associations with our foreign land operators assures seamless tours, a high level of service, and unparalleled buying power. Israel's largest incoming tour operator, Israel & Global Travel (IGT), has been our travel partner for over 27 years. We have also worked with our land operators in Greece, Italy, England, and other European locations for many years.
Please check out our entire website. There's photos of tour hosts, groups, friends (some of whom you may know), and lots of information under "Resources" on Organizing a Successful Tour, how we can customize your tour, and even tips for long flights.
It is always especially exciting for us to hear from pastors and tour leaders who have never traveled with us before and assisting them in organizing an amazing tour for their congregation, or perhaps a unique program for just friends and family. We look forward to speaking with you soon. Reach us toll-free at 800.780.7801 or by email: tours@edhilltours.com.
Sincerely,
Meredith Hill Page, President
Ed Hill Tours, Inc.